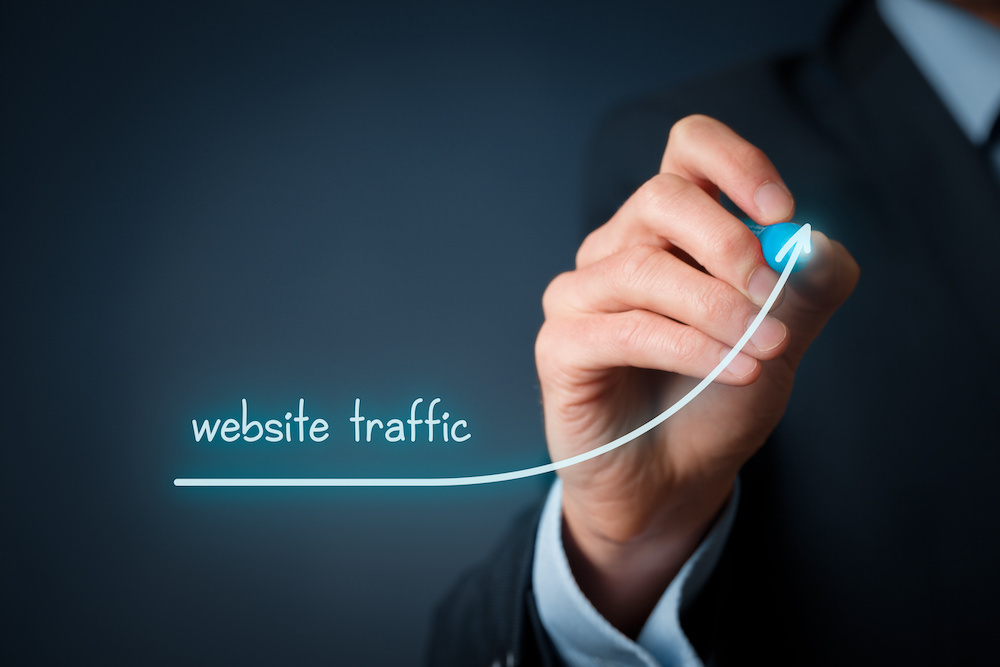 It's a fact that online businesses struggle to generate new and creative ways to increase website traffic. Adding more to it, there is numerous misinformation online about the best way to increase website traffic, which eventually leads to trying to implement the same strategies over and over without any benefits.
If you want to increase your website traffic by using both organic and paid methods, we have listed ten ways to yield results for your online business. 
1. Conduct Keyword Research
An essential thing that you should do is include relevant keywords in your content. Keywords play a major role in ranking your content and should be organically used throughout your content. Keywords should not be overused or "stuffed," which may distract your readers. Moreover, the keywords must be used in your title tags, meta descriptions, headings, URLs, and throughout the actual piece of content.
In order to conduct keyword research, you can utilize tools like Ahrefs, Moz, SEMrush, or Ubersuggest. These tolls will provide valuable data regarding keywords that your competitors are ranking for, how often readers are searching for a particular keyword, keyword difficulty, related keywords, and the cost of keywords for pay-per-click ads.
Hiring an SEO agency is always an option as well. An SEO agency will provide you invaluable insights regarding your website and its performance and perform site audits that will help identify issues that might be blocking your content from being shown in search engines.
2. Create a Unique Content
Publishing content won't do it by itself. Your content needs to be unique and offer valuable information that can cut through the clutter. Informative, relevant, and insightful content is an effective way to increase website traffic. 
People use search engines like Google to look for the best answer to their specific questions and locate accurate and trustworthy information. Therefore, it is imperative that your content can address various queries that are being asked in your niche.
One easy way to do this is by creating a blog for your website. In fact, websites that have blog content on them generate 434% more search engine indexed pages than websites that don't have one. Additionally, websites that post at least 16 posts per month receive an outstanding 3.5 times more traffic than those that publish less than four blog posts per month.
The key takeaway is that if your website produces valuable content, is posted consistently and regularly, and has answers to queries your readers are searching for, your website traffic will significantly improve.
It is important to note that without content, it will be difficult to rank for anything. Therefore, content writing is essential for SEO and increasing website traffic.
3. Guest Blogging
Guest blogging for other websites in your niche helps develop new backlinks, boost referral traffic, and increase your overall search engine results page (SERP) ranking. However, before you take the giant leap into writing other blogs, you must thoroughly research the website to ensure that they are trustworthy and worth writing for. Remember that not all backlinks are made equal.
One of the first things to do is to check the website's content and determine if it is high quality or not. You can also look at the website's domain authority and conduct an overall audit to understand as much information as possible. If you think the website is trustworthy and credible and want to do a guest blog post for them, inquire if they will promote your blog on social media platforms and tag you in it.
4. Active Social Media Pages
Undoubtedly, social media plays a massive role in attracting traffic to your website. It is worth noting that while you track your traffic from social media, even though it is supposed to be referral traffic, it may get classified as direct traffic for several reasons. Ensure to be aware of this while you track your traffic sources in Google Analytics.
Social media pages can help build traffic and strong brand identity. Therefore, we want to highlight how social media can be utilized to increase traffic:
Publish content (blogs, ebooks, infographics, white papers, and videos) across all of your social media platforms

Interact with your audience by responding to them, reposting their content, and tagging them to increase engagement

Research and utilize relevant hashtags

Regularly updates your bio to contain links to your new content and promote it when it gets published

Use blurbs and important data from your content to influence to click on your content
5. Increase Website Traffic Through Advertisements
You can use paid advertising by developing tactics for search, social media, and display ads to pay dividends in increasing website traffic. However, each type has pros and cons to it. For instance, users can block display ads from showing up. Google Ads can be costly, with the cost per click ranging between $1 and $2 per click. To make the most of your campaigns and save money on ads, it is crucial to set a budget and realistic goals before partaking in an ad campaign.
When conducting a pay-per-click (PPC) campaign, you must start with only one campaign with a few different ad groups that will target various keywords and audiences. After the campaign begins, you can monitor it and see how your audience interacts with your ads and how they behave to multiple keywords. For example, one of your keywords only generated impressions but did not increase website traffic, while the other ad groups resulted in increased website traffic. For this, the best thing to do is engage in some A/B testing to help you pinpoint which ad and method are the most effective.
6. Email Newsletters
You can send newsletters to promote your recent content to increase website traffic. A few simple yet effective ways to use email marketing can be seen below:
Strategically place your enticing information from your content in the subject line and the body of your email

Insert a link to call to action (CTA) that subscribers can click to read more of the content

Emails should be mobile-friendly, with links that are easy to see and open! This is a crucial factor as 46% of all email opens are done on smartphones

Personalize emails by including the name of the subscriber in them

Make the email visually appealing and use well-designed templates

Conduct A/B testing to which email campaigns receive more opens and clicks
7. Influencer Outreach
When we say influencers, it doesn't mean you reach out to every possible influencer you can get hold of. Reach out to industry influencers to get your content in front of a larger audience, especially in front of their followers, since they are already interested in your industry. Some ways a business can reach out to influencers include:
Tag the influencer in a social media post if your content references their research or content

Ask the influence if they'd be interested in an interview. This will help to get valuable information from them. After your content is ready, ensure to share it on social media, and don't forget to tag them so that they can share it with their followers

Conduct online/events with multiple influencers, for instance, 10 Experts Share Simple Yet Effective Ways to Increase Website Traffic in 2022. Once more, after the content has been developed, ensure to post it on social media and tag all influencers that were involved

Pay influencers to run sponsored posts on their social media pages with your content in it
If you're new to influencer outreach or not sure whom to reach out to or engage with, tools like HypeAuditor and BuzzSumo will help you find the right influencers for your business. You can also reach out to a digital marketing agency to help you. 
8. Provide a Tool or Piece of Content
It's a known fact that allowing your visitors to receive something of substantial value can be a great way to drive more website traffic. One example is providing a free downloadable keyword research template or any other free relevant tools. And of course, you'll need an email address in return, though!
These tools can significantly maximize your returns and find new leads through acquiring email addresses and other personal information. Ensure that you promote all of the tools on social media platforms, especially on industry-related groups, as like-minded people are already talking about related topics.
9. Submit Press Releases
When you produce any major piece of content like press releases, whether it's for your business or client, it's important to be proactive with its distribution. Therefore, it is essential to push the press release and distribute it to influential websites and publications in the specific industry.
To reiterate, whenever you have an important announcement to make or main content for your client, you must send it to industry-leading publications and blogs that your audience reads. Also, include contact details on the press release so you can collect new leads and boost referral traffic to your website. 
10. Exchange Backlinks
Online businesses are working consistently to increase their website traffic but miss that there are also many opportunities for backlink exchanges. You can search for other relevant websites in your niche and reach out to them to manually set up beneficial backlinks for both websites.
Backlinks significantly improve website authority and your overall SEO ranking in the eyes of Google. You can consider these backlinks as votes of confidence which will tell Google that your content is relevant, credible, trustworthy, and offers insightful content. Referral traffic can also be increased through the link, as many visitors can arrive on your website after seeing your link!
Key Takeaway
Though these ten steps look simple and easy, it is important to note that some methods can pay off immediately while others may take considerable time. However, the best thing is to be consistent with these methods and ensure that you make improvements every day. We believe that the best way to grow your website traffic is to work on small steps regularly, eventually build up to your goal, and ultimately gain sustainable website traffic for the long run.