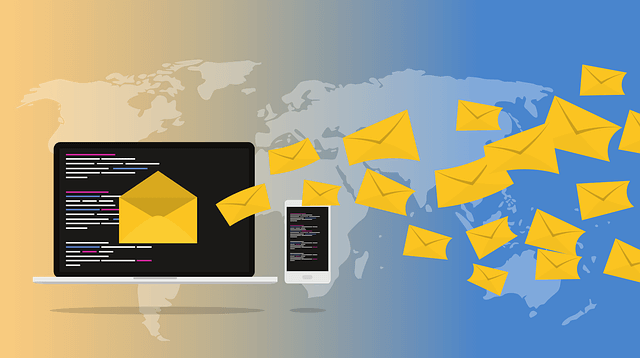 Contrary to what most people think, email marketing is an effective way to get a good return on investment for your marketing efforts. Moreover, spending time and attention on creating a curated email marketing template can be both beneficial in the long run and provide you with the opportunity to increase your chances of result-oriented marketing strategies from your prospects and customers. HubSpot has recently provided data that businesses that use emails to generate leads get 50% more leads that are active buyers and at a 33% lower cost. Email leads can increase sales opportunities by 20% compared to non-nurtured leads. 
Since there are multiple ways and methods in which you can curate that perfect email marketing template for your business, we provide you with a well-rounded guide on how to create that email template that will get you the response you expect for your business. Let us get right into it! 
What is an email marketing template
Before we get into the curation of email marketing templates, a few may be unsure of what creating an email marketing template entails. 
Whenever a marketer is to have a starting point for their email, a template provides a guide that does not require the email to be built from scratch. Email marketing templates can be categorized for all sorts of purposes and are based on the business and goal the marketer aims to reach through their marketing strategy. Every time a marketer starts an email campaign, aspects such as the design, mobile friendliness, aesthetics, and other elements of the email are already laid out through an email template. Now, the marketer gets the opportunity to spend their time creating content that their readers will value, engage with, and will be useful to them. 
Creating that perfect well-rounded email marketing template will provide value to your customers and increase their chances of interacting with your content. So, instead of trying to come up with fresh content every other time, you can use email templates to provide value to your time and those reading your content. 
What are the types of marketing emails?
Before creating that perfect email marketing template, you need to identify your email's purpose. Whether you curate your content for engagement or retention, email marketing provides value through information. So, what types of marketing emails can marketers include in their inbound marketing strategies? We have listed four useful email marketing types below. 
Email marketing newsletters
A newsletter is one of the most common and sought-after email marketing strategies. A well-curated email newsletter includes helpful tips, knowledge, and tools the reader wants. When sending an inbox to your subscriber, sending content that adds value is the most important factor. Creating engaging content that includes thoughtful information, provides direction through guides, and informs of your service are all important. A well-written and curated newsletter includes content that engages, retains, and builds a relationship with your customer. 
Retention emails 
A retention email is a way to keep an open line of communication with your consumers and subscribers. One of the issues email marketers face is the loss of response and engagement with prospective and existing customers. So, a retention email strategy can be considered a request for feedback or even an offer to your customers who have lost contact with your campaign. Retention email templates must include persuasive and sincere content that gives users the assurance of being thought of. 
Emails aimed at promotions
Another email marketing campaign includes promotional emails. These emails aim to drive your sales, signup for email subscriptions, and provide product or service information. These emails are written to promote and encourage the consumers to buy or engage with the product or service you are providing them with. These emails can also be a useful method to provide value to your existing customers through offers, exclusive products, and services, driving subscriptions based on content, and cross-selling your products to increase your customers. 
Emails aimed at customer acquisition
An acquisition email provides a lot of value to your business through lead generation. When you have subscribers who are not active consumers of your product or service, creating acquisition emails can help customers see the value in becoming active users of your service. Moreover, this method of email campaign drives revenue and helps your prospective customers seek interest and value in the content you share with them. 
When do you use an email template?
Now that you have identified your email marketing campaign objective, it is necessary to identify when using an email marketing template is the best way to go. For many marketing campaigns, you may opt out of using a pre-made template; however, reusing an email template in other cases can be the best option. 
For an email list where your objective matches with another, you do not have to consider a special case for using an email template. The elements of a template can apply to most email marketing campaigns. 
A pre-made template can deliver value to your time if you want to offer customer care and provide information to your client list. 

Building networks and potential partnerships can include the use of email templates. 

Another campaign where an email marketing template is beneficial includes loyalty programs and other offers you send to your customers. 

Seasonal product and service information and event recall could be sent through an email template. 

Confirmation emails for orders and details of an order. 

Emails aimed for feedback and surveys. 
Using an email marketing template also entails checking what content and template work best with your customers. Email marketing tools and analytics are key to identifying the response and engagement. We discuss this in detail further in the article. 
What should an email marketing template contain?
Once you identify the method and position for your email marketing strategies, you can add elements to your email templates that will benefit your curation. So, what does an email marketing template contain, and what other factors are excluded from one? We have provided a list below. 
Company branding
Always include your company logo and brand colors in your email marketing templates. This can help your customers identify their correspondence. Including your company branding can help prospective clients recall your content through this identification. 
Unique value proposition
The next thing to include is a value to your offer. Most email user behavior statistics pinpoint the attention span of email readers as a scant 6 seconds. So, a direct and clear-cut value offer visible through bullets, numbers, statistics, and links can help get that response. 
A Call-to-action
A call-to-action is a must in an email marketing template for your conversion goal to be met through your email. A call-to-action can be in the form of a button, a link, an image, or anything that supports the agenda for the email objective. 
Relevant images
Adding relevant images is somewhat self-explanatory. A text-heavy email that only includes chunks of content can be overwhelming for a consumer to skim through. Break the piece of text with relevant images that provide context and information for your customers. 
Unsubscribe links and email preferences
An email marketing template must always adhere to the required guidelines and include an unsubscribe link on the footer. It should have clear footer content for changes to email preferences in front of your customers, allowing them to make necessary changes whenever they wish to and adding to your credibility as a marketer!
What is the ideal format for email marketing templates?
All the necessary information that needs to be added to an email template is subjective to the objective of the email, the prospect of your clients, and more. However, you can create an initial skeleton through the format that works best among your customers and what is perceived well.
An ideal format can for email marketing templates includes: 
A clear subject line

Must consist of preview text that showcases your company branding

A body copy 

May have images based on whether you are designing a text only or image had email content

A footer that consists of an unsubscription and email preferences content

It can include the logo and company branding based on preference

Social sharing and other forms of links to relevant content and product/ service pages
The structure of your email marketing template can defer based on the kind of content you are going for. You must have a pre-designed idea of the incusing of branding, design, colors, and logos that must be within the template. Moreover, you can also choose to differentiate between what a text-only or an image/design-based email template looks like. 
How do you create an effective body copy of an email marketing template
As much as a template is required when creating an effective email marketing campaign, a well-written body copy and subject line are the base of the template. However much you design the email template to be effective, well-written copywriting will be necessary for your consumers to engage and respond to the email for your marketing strategy to gain results. So, here are a few tips to nail that body copy and subject line for your email. 
Nail Your Subject Line 
For your email to stand out, you need to grasp your readers' attention and engage them through your subject line. After all, this is what makes your breaks entire email campaign. So, ensure to nail that subject line by keeping in mind a few tricks that can help you get better results. 
Make use of actionable language. 

Ensure to personalize the message when sending it to existing customers. 

Make the subject line as clear as possible. 

Engage the reader with a catchy but comprehensible subject line. 

Always ensure the subject line and email copy are well aligned and relevant. 
Create a compelling body copy
Once you have come up with a subject line that delivers, the next step is to create a body copy that follows. For a body copy, one must consider various factors that can garner attention while engaging users. So, here are our two cents on how one can create that body copy that users would read. 
Relevancy is key
Establishing relevancy is the key to creating a body copy that readers will perceive as necessary. If you are sending someone an email and writing to them, the users must first know why they are being written. As much as intrigue can be important, in email marketing – intrigue could lead to frustration. You want your user to understand the relevance of the content you are sending them, so establish a clear-cut message where the reader understands the motive of the email. 
Outline your benefits
Outlining the value you provide the client can be the best thing you do to ensure engagement. Whenever you are trying to sell a service or product, outlining the benefits will be more beneficial than only talking about the features. With benefits, you get to create value that a consumer has an opportunity to engage with. 
Talk in the second person.
If you are writing to someone, talking in the second person creates a relationship by allowing the conversation to be drawn towards the reader, not the brand. You are creating dialogue through a medium that is usually perceived to be one-sided. So, writing with "you," "your," and "yours" in the second person can be more effective than just giving information through "we" and "I." 
Keep it understandable
An email should not be long and incomprehensible. Keeping it short and brief allows the reader to get all the information they need without the content being too much to take. Do not try to paint the whole picture through one email. You cannot possibly get this done without overwhelming the reader. So, grasp the attention and give enough to make the reader want more through contact. This is where call-to-actions then come in. 
Your call-to-actions matter 
A call-to-action is necessary to make it easy for the recipient of the email to know where they need to go for the next steps. A well-readable and understandable call-to-action will be identifiable and easy to grasp in a single ski. So, spend some time and effort to place your call-to-action effectively. This can be well worth the step. 
Is using an email marketing template deemed unprofessional?
Opposite to being unprofessional, an email template can help you elevate your email marketing template to create a polished and professional look. How you personalize your emails after this is up to you. When creating an email marketing template, you need to ensure you have the basics nailed down. Adding other elements to the email is like adding garnish to a dish that has its base done. You need to ensure you customize the templates based on the necessities and not rely entirely on the template to ensure that the results are as expected. 
Next steps after you create that perfect email marketing template
Once you have the perfect template, that is only the start; You need to practice some email marketing best practices to ensure that your email template delivers results. So, here are a few things you can remember once the email marketing template is complete. 
Track the results of your email marketing campaign. 

You need to make use of email marketing automation. 

If your email consists of promotional events or specific content that requires a landing page, make sure you create that and link it to the necessary pages. 

Add social media links and sync to your social media. 

Personalize the templates when required.
Key takeaways
Creating a perfect email marketing template for your campaign can include multiple factions. For the campaign to gain the result you expect, ensure that your initial stage of creating a template is a boon to the process and adds value. Spend the right energy and time to create an effective template that will add more value to your campaign than you anticipate.