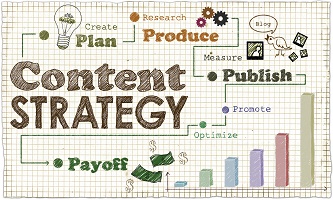 Do you find yourself struggling to keep up with the latest content marketing strategies? It can be difficult to stay on top of all the new developments in an ever-changing industry. This blog post will help you create a strategy that is sure to work for your business. 
Determine who your customer is: First of all, you need to define your customer. Who are they? What do they want? Where can you find them online? How old are they? It is essential that the content created matches your audience's interests and needs.
Figure out what kind of information your customers need: Once you know your audience and their interests, it's time to figure out what type of information they need. This allows you to create a content marketing strategy that provides value instead of content designed around selling products or services. The types of information customers typically look for include: FAQs, industry analysis, expert opinions on topics related to the business sector in which they work.
Create a content calendar: To keep up with all the various tasks associated with creating effective blog posts, infographics, ebooks, etc., it is essential to have an organized system in place. A spreadsheet can help plan upcoming projects, so there are no delays due to lack of preparation!
Choose how you are going to say it: Once you have done the groundwork, it is time to actually create content. There are a few options for this step: bring in an expert from within your organization; hire a freelancer or agency to write on your behalf; outsource production of written works and visual aids to a company that specializes in such projects.
Establishing guidelines: When it comes to blogging, there are specific guidelines you should follow. A blog is different from other types of content because the tone must be conversational and informal! Each post should contain keywords related to your industry and backlinks to your site and social media profiles for increased SEO benefits. Make sure all images used have a proper alt-tag so search engines can "read" them properly.
Understand who will be responsible for creating the content: You might have a team dedicated full-time to producing new blog posts or articles on topics related to what your business does. If not, consider hiring someone part-time to help create relevant content at least once per month. Think outside of publishing too! Do you have employees with exciting stories about their experiences working in education or healthcare industries etc.? Why not interview them yourself and write up an article from their perspective? Someone on staff should also be able to answer questions from customers and post them online.
Determine how often you should publish new content: You will need to decide what schedule works for your business. If you have a team dedicated full-time to creating relevant content, then publishing more than once per week may be possible (and is recommended). However, if this isn't the case, one blog post or article every month might work best for now. Make sure that it has been edited by someone on staff too! Don't forget about social media, either! New posts can go live there once they are finished being written up, so make sure that you share the link on all your social media profiles. 
Be consistent with messaging: It's also vital that everyone involved stays up-to-date with messages about topics related to what you create for customers. Make sure there aren't any conflicting messages being shared across different content. You can even use social media to ask your followers what they think about specific topics and ideas related to your business while sharing links for them to click on to read more!
Customize the blog post or article: Make sure that you customize each piece of published content by adding information specifically tailored towards the customer reading it. Don't forget to link out (or include hyperlinks within) any direct sources too! Include images if possible as well, but make sure they are relevant enough so readers will continue scrolling down through all of the text without getting bored quickly! Remember, not everyone has unlimited time online; keep this in mind when writing up posts. Most importantly? Always double-check grammar before publishing anything live online!
Ensure you measure results: Now that everything has been created, don't just let it sit there! You need to measure how effective different kinds of content marketing strategies are so that improvements can be made over time. This involves tracking page views, visits, leads generated (from blog posts), social media shares/engagements, etc. It may take some trial-and-error before determining what works best with regards to specific kinds of content.
Since different content marketing strategies are most effective for certain types of businesses, it's essential to customize blog posts or articles by adding information specifically tailored to customers. Also, keep in mind that measuring results is vital so improvements can be made over time!