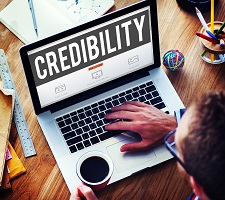 The credibility of your website can be a tricky thing to maintain. Many factors contribute to the credibility of your site, and you must understand what these factors are to avoid having people question the validity of your information. In this blog post, we will discuss some ways you can improve the credibility of your website so that visitors feel more comfortable trusting what they find on it and buying from you!
Consistency: When you do the right things for an extended time, you will automatically build credibility. If a website has been around for a long time and continues to post new content regularly, people will naturally trust it. On the other hand, if someone just set up their site last week and there is nothing but an "about us" page or contact information listed on it with no posts, then users will not be very impressed.
Trustworthiness: The thing that will ultimately determine whether or not people trust your site is how trustworthy you are. If you have a proven track record of providing consistent, quality information to readers and customers, they will be more likely to find credibility in what you offer them on your website. On the other hand, if there is evidence of dishonesty or lack of trustworthiness, users will not look upon your site very highly.
No unnecessary requirements: If your website requires every user to create an account before they can comment or share your article, then that automatically decreases trust in your website. The more hoops a person has to jump through to use your website, the less likely they are going to want anything from it.
Adding helpful FAQs: One of the main reasons for a business website to exist is to solve a problem for the customer. Adding an FAQ section not only does that but also allows you a chance to market your products without making it salesy.
Minimize jargon while writing content: Using complicated jargon in your articles or blog posts can make it difficult for people to understand what you are trying to get at. If visitors cannot understand your content, they will not want anything to do with it and may even leave negative comments about how bad the post is making your company look in turn.
Punctuality: Writing new blogs posts regularly is very important, but you also have to follow through with them. All posts scheduled for your website should be put out at their designated time, or people will lose interest and jump on to something else. To keep your users from leaving, you need to be on time every time. 
Avoid contradicting content: If some information about one of your products or services is false, you should correct it as soon as possible. If your company does not have a reputation for being trustworthy, people will assume the information on your website is false and choose to believe other companies over yours.
Minimize the ads on display: If your website is just one big ad for selling something, people will not trust it. If you want people to come back and use your site again, you should provide them with regular high-quality content that they will enjoy reading so much that they do not even think about the ads on display at all.
Cite your sources: If you are presenting any data, make sure you cite your sources. If you do not, people will think that you are just making up information to make your company look good.
Include a guestbook: Having an online guest book on your website is another way of showing visitors how much trustworthiness and credibility they can have in what you offer them. This can be backed by the number of people who have signed on to the guest book.
Customer testimonials: Getting testimonials from your customers about their experience with you and your company is another excellent way to show visitors that many satisfied people have used what you offer.
Include customer reviews: Including customer reviews on your website is another way of showing that people are pleased with what you have to offer. Not only that, but it also allows potential customers to see how happy others were who bought from you so they can expect the same great experience for themselves.
Add trust seals: Adding trust symbols to your website is another excellent way of showing visitors that you are legitimate and serious about what you do. Similarly, including logos for any organizations or institutions with which you have partnered, worked with, or represented can help give even more credibility to your business and show people that they can continue to trust you.
Add social media buttons: Having your business's name, address, and phone number prominently displayed on all of the pages of your website is another excellent way to show visitors that you are a legitimate company with a brick-and-mortar store. Another thing you can do to increase credibility on every page is adding sharing buttons for various social media platforms, such as Facebook and Twitter.
Case studies: Consider adding them to your website if you have any case studies or testimonials from customers about how great it is to use your products and services. 
It's not about the content you have; it's about how your site is viewed. When visitors come to your website, they immediately judge whether or not they want to stay on that page and continue reading what you offer. You can use these factors to increase the credibility of your website. Did you find something that you could improve on?