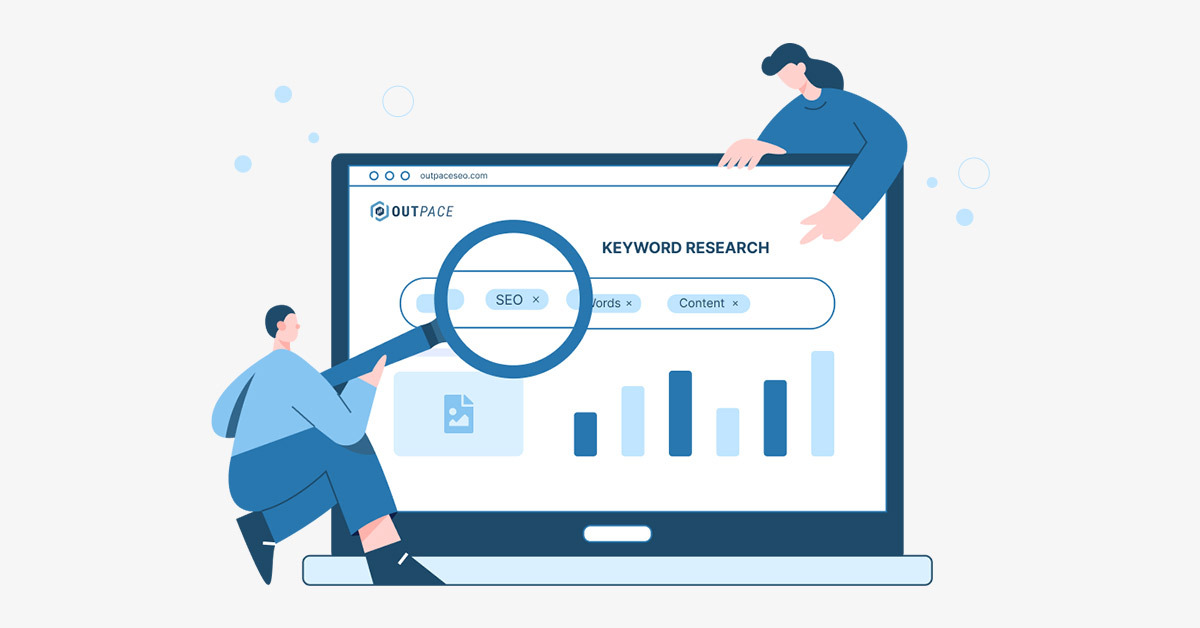 Are you new to SEO and overwhelmed by all the jargon around keyword research? It's okay. We've all been there. Mastering keyword research for SEO is essential to getting your website in front of the right audience.
By understanding your potential client's language, you can create content your customers will easily find in search engines. Not to mention, finding the right keywords can help you outrank your competitors.
This blog will explain keyword research and why it is essential for your website's success in 2023. We will also give you the latest and evergreen tips for finding high-traffic keyword opportunities through keyword research. And further, help on how to use them to optimize your content. 
So, let's dive in!
Why Is Keyword Research For SEO Important In 2023?
A recent survey conducted by Google in 2023 found that 89% of internet users rely on search engines to find products, services, and information online. Furthermore, 75% of search engine users only go up to the first page of search results. This fact highlights the vital role of keyword research for SEO in–
Keyword research remains integral to search engine optimization (SEO) in 2023. It represents the bedrock of any successful SEO campaign and digital marketing strategy—
Helping businesses to identify relevant keywords and phrases to improve their website's visibility and ranking on search engine results pages (SERPs).
Another research by Ahrefs reveals that the number one ranking page on Google's search engine results page (SERP) typically contains an average of 1,890 words in its content. Additionally, it has 12.5% greater keyword density than the subsequent pages not ranking on the first page of SERP. These figures demonstrate the importance of thorough keyword research to—
Identify the best keywords to target 
The right type and amount of content to produce
The importance of incorporating user intent into your keyword research for SEO is growing in 2023. It's no longer enough to target high-volume keywords. Instead, it would be best to focus on identifying keywords that align with user intent and delivering content that meets their needs.
What Are The Best Keyword Research SEO Tools In 2023
Before diving head first into the tips of finding high-traffic keyword opportunities through keyword research, let's get familiar with some of the tools. 
One of the powerful keyword research tools in our list is Ahrefs. It provides a comprehensive overview of the search term and related searches. This tool enables users to identify the keywords their competitors are ranking for, thus allowing them to refine their content strategy. Regarding keyword research, Ahrefs offers a Keyword Explorer tool that provides valuable insights into keyword search volume, keyword difficulty score, and click-through rate (CTR) estimations. The subscription plan starts from $99 per month.
The second powerful SEO tool for keyword research right now is SEMrush. SEMrush offers various features to help users optimize their content. The Keyword Magic tool analyzes a database of over 20 billion keywords and delivers valuable keyword suggestions, competition analysis, top-ranking pages, click potential, and search volume trends. SEMrush also offers a keyword difficulty tool that analyzes each keyword's top 100 search results. SEMrush's pricing plans start from $99.95 per month.
Google Keyword Planner is a free and powerful keyword research tool provided by Google. It is a suitable tool for beginners who are starting with SEO. Though slightly limited in functionality compared to other paid tools, Google Keyword Planner allows users to access keyword search volume, competition and even create keyword lists. However, some tool features are not free, and users need an active Google Ads to account to access them.
It is another all-in-one SEO tool that provides comprehensive keyword research functionality. The Keyword Explorer tool showcases organic search volume data for specific locations and generates keyword suggestions based on relevance and importance. Pricing plans range from $79 to $479 monthly, depending on the business size and objectives.
Our favorite Keyword Tool is a comprehensive keyword research tool that offers suggested keywords based on search terms. It provides valuable insights into user search behavior and trends. Keyword Tool has a free plan, but users can access more features by subscribing to its paid program, which starts at $89 per month.
Tips To Find High-Traffic Keyword Opportunities Through Your Keyword Research (2023 Edition)
Tip 1: Know Methods To Research Keywords
Let's begin with the basic methods of keyword research.
Generally speaking–there are 4 types of keywords (long tail, short tail, intent-targeting, and question). However, we'll uncover the top 3 keywords that you must know in 2023:
Short-tail ("head" or "seed") keywords 
They are typically 1-2 word phrases representing broad search terms. They tend to be highly competitive and may not always reflect user intent. However, they're also essential for building a solid foundation for your keyword strategy. For example, "shoes" or "cars" are short tail keywords.
They are more specific and involve longer phrases or questions users might search for. They're generally less competitive and can provide valuable insight into user intent, making them ideal for targeting specific topics or niches. For example, "men's running shoes" or "affordable used cars" are long-tail keywords.
They are another important aspect of keyword research. They're the main topics or categories within your niche or industry, providing a framework for organizing your research and building your content strategy. For example, the parent keyword "health" can have subcategories like "mental health," "physical health," "nutrition," and "exercise."
Now that you know the keywords, let's learn how to research these keywords: 
Step 1: Google Autocomplete
Google's autocomplete feature is a great way to get ideas for long-tail keywords. Start typing in a phrase related to your niche, and Google will suggest various keywords and phrases that other people have searched for.
Step 2: Related Searches
At the bottom of the Google search results page, you'll find "related searches" that can also be a source of inspiration for high-traffic keywords. These suggestions are from what others have searched for related to your original query.
Step 3: Google Trends
Google Trends is a tool that allows you to track the popularity of a particular keyword or topic over time. Using this tool, you can identify when certain keywords experience spikes in popularity, which can help you optimize your content around those keywords for more traffic.
Step 4: Identification by Region
Conducting focus groups or surveys within the region can provide valuable insights into the specific language and phrasing used by locals. This step allows for more targeted and effective keyword selection for businesses or organizations looking to reach a particular audience.
Step 5: Keyword Research Tools
Begin by brainstorming a list of seed keywords and then use tools like Google Keyword Planner, Ahrefs, or Keyword Tool to find related long-tail keywords. 
Tip 2: Categorizing The Type Of Keywords Based On Customers Search Intent Journey
Every customer journey starts with googling these days. So, selecting popular keywords and hoping for the best is not enough. 
You need to carefully consider the type of keywords based on your customer's search intent journey. 
There are four types of search intent that you should keep in mind when conducting your keyword research. Each type of keyword can offer unique opportunities to drive traffic to your website.
The focus of commercial keywords is to drive sales. They're–
Broad, &
High-level terms that identify a product or service in a general way. 
Examples of commercial keywords include "best-running shoes" or "top-rated web hosting."
Remember: Use these keywords for customers who are ready to make a purchase.
These keywords are more specific, and it focuses on driving conversions. These keywords usually include modifiers like–
"Buy,"

"download," or

"Subscribe." 
Examples of transactional keywords include "buy Nike running shoes online" or "download WordPress themes."
Remember: Use these keywords for customers who have a specific goal. 
These keywords intend to provide valuable information for the user. They're often–
Question-based and 
Are meant to satisfy the user's curiosity or answer a specific query. 
Examples of informational keywords include "What are the benefits of running?" or "How to install WordPress."
Remember: Use these keywords for customers looking for answers to their questions.
Navigational keywords are those that the user enters to navigate to a specific website or page. They're often–
Branded terms to help users find a particular website or product.

 
Examples of navigational keywords include "Facebook login" or "Google Maps directions to Starbucks."
Remember: Use these keywords for customers looking for a specific website. It also means your brand name.
For high-traffic keyword opportunities, consider these search intent keywords. This tip helps identify the most popular keywords within each type to create a well-rounded SEO strategy that addresses all aspects of your customer's search intent journey.
Tip 3: Competitive Keywords Analysis To Find Keyword Gap
Now that you understand different types of keywords and where to pull them out. Let's dive deep into understanding this next tip–analyzing the competitive keywords among your competitors.
When conducting keyword research for your website, it's important to find keywords with high search volume and low competition and identify keyword gaps. This identification means finding keywords that your competitors are ranking for, but you are not.
Here are the steps to conduct a competitive keyword analysis:
Step 1: Identify your top competitors in your industry or niche. 
You directly compete with these businesses for search engine rankings and customers.
Step 2: Check their domain for new keyword ideas. 
Your competitors in a similar niche market can become your primary source of inspiration for new keyword ideas. By checking their domain, you can easily identify relevant and profitable keywords that have the potential to drive more traffic and leads to your website.
One of the easiest methods to find new keywords is to use a tool like SEMrush. This tool will show you all the keywords your competitors rank for. You can then analyze these keywords and find specific ones related to your niche that are not currently in your list of keywords.  
This step can allow you to identify low-concentration but high-converting keywords your competition isn't targeting yet.
Step 3: Check their top site keywords for keyword ideas. 
Another valuable trick to identifying the keyword gap is to check the top site keywords of your competitors. By understanding the keywords that drive traffic and conversions to their website, you can expand your SEO strategy by creating content that ranks for similar terms, generating more targeted traffic.
Remember to note the backlinks pointing toward the relevant keywords with the highest traffic on your competitor's website. This step can help you understand their content strategy, and you can create similar or better quality content, influencing the backlinks.
Step 4: Keyword targeting – choose limited profitable keywords. 
The essential tip of competitive research is to limit your target keywords. It might be tempting to choose a range of keywords, but it's important to note that too many keywords can dilute the effectiveness of your SEO. 
Tip 4: Think About Your Product/Service Like Your Customers (Google Tip)
After finding the keyword gap, you must know to find the relevant keywords. Our tip is always to think about your product or service like your customer. 
Here are some of the steps to do this:
Step 1: Refine new keywords
One of the most common mistakes when conducting keyword research is selecting broad and generic keywords. Instead, refine your keyword selection using more specific and targeted phrases that reflect your content better.
This approach will help attract high-quality traffic, increasing engagement and conversions on your site.
Step 2: Use customer language
Customers search for products or services may not reflect industry jargon or technical terminology. Use natural language and phrasing that aligns with your target audience's search habits to get the most out of your keyword research.
When your keywords match your customers' language, it increases the likelihood of them finding your website. For this, you can use Natural Language Processing Tools to generate keywords.
Step 3: Don't use actual search queries that potential customers might enter
Using commonly searched phrases for your keyword selection may seem like a good idea, but everyone else is doing the same. Consider using related long-tail keywords, which will be more specific and generate higher-quality traffic.
Step 4: Don't limit your keywords
Avoid restricting yourself to a few critical keywords. Instead, use diverse relevant keywords to attract traction from various sources. This approach will help you widen your reach and increase your chances of organic traffic.
Step 5: Be specific but not too specific
While being specific in your keyword selection is essential, going too detailed can also restrict your website's visibility. If you have multiple services or products, use broad terms that capture the essence of your brand and then target them with specific long-tail keywords. For example, use "reception venue" but not "reception venue for small groups."
Avoid generalizing in 2023!
Tip 5: Compile Your Keywords List & Use Tools To Analyze Their Strengths
After you've learned to take out and compile the keywords, you should always make a list and analyze their strengths.
Step 1: Cut down your keyword list with Google Keyword Planner
Keyword research tools return a plethora of keywords that you can rank for, but not all of them are worth targeting. Google Keyword Planner helps you identify keywords with high monthly search volumes relevant to your industry.
This tool also suggests long-tail keywords with less competition, which can be an opportunity for personalized content that solves specific problems.
Start by logging into your Google AdWords account and clicking "

Keyword Planner

" under the "

Tools

" tab.
Choose "

Find new keywords

" and type your business or industry-related keyword. 
Keyword Planner will generate a list of related keywords, their respective search volume, competition, and bid range. 
Sort these keywords by search volume to identify the most popular terms that match your business' products or services.
Step 2: Prioritize Low-Hanging Fruit
Avoid broad keywords with high search volume but high competition, as they are hard to rank for. Instead, focus on long-tail keywords that have a lower search volume but are more specific. These keywords are also known as low-hanging fruit.
These keywords will be easier to rank for and drive lower but more targeted traffic to your website. Using these keywords makes you more likely to convert users into leads, thereby obtaining excellent conversion rates for your website.
Step 3: Check Monthly Search Volume (MSV) For Chosen Keywords
After prioritizing the list of low-hanging fruit, it's essential to analyze each keyword's monthly search volume (MSV). MSV estimates how often people search for a particular keyword in a month. This analysis helps you identify keywords potentially driving more traffic to your site.
Tip 6: Generating Keyword Variation
One overlooked tip is generating keyword variation to develop a high-traffic keyword opportunity. Focusing on semantic relationships between words is important for search engines to provide even greater relevance when generating keyword variation. 
By using highly relevant, semantically-rich keywords, a website can further improve its search engine rankings and attract more visitors, ultimately increasing its online visibility and success.
To be considered semantically rich, a keyword should be highly relevant to the topic, have a high search volume, and be used in the appropriate context. 
For example, 
If you are writing a blog post about "healthy breakfast ideas," then semantically rich keywords would include phrases like "nutritious breakfast recipes," "healthy breakfast options," "breakfast ideas for weight loss," and so on. And you can use SEO tools without racking your brain.
Here's the step-by-step process:
Step 1: Identify primary keywords
Create a list of primary keywords related to your intended content. Primary keywords will form the foundation of your keyword research. For instance, if you are writing about "affordable hotels in New York," your primary keyword would be "affordable hotels in New York."
Step 2: Use SEO tools to generate variations
Utilize SEO tools like Google Keyword Planner, SEMrush, and Ahrefs to generate keyword variations based on your primary keywords. These tools can suggest related phrases and terms that people popularly use.
Step 3: Analyze the competition level
As you collect these keyword variations, analyze their competition level. The competition level shows how hard it would be to rank for a particular keyword. SEO tools such as Moz can provide this information.
Step 4: Analyze the search volume
Check the search volume of the identified keywords. It will give you an idea of a specific keyword's popularity and how many people search for it monthly. Google Keyword Planner and SEMrush are some tools that can help you with this.
Step 5: Choose the right keywords
Identify the right and relevant keywords, have a moderate to less competition level, and have a high search volume. Choose a combination of long-tail keywords (more than three words long) and short-tail keywords (one or two words long) to balance the competition and reach.
Step 6: Group Keywords
Group your keywords into themes to create content based on each theme. For example, if you sell running shoes, you may have themes like "trail running shoes," "marathon running shoes," or "minimalist running shoes." Grouping your keywords this way will help you create more focused and relevant content for your customers.
Step 7: Use long-tail keywords
Include long-tail keywords in your list of variations to rank higher in the SERPs. For example, "best minimalist running shoes for women" is a long-tail keyword that may have less competition compared to "running shoes."
Tip 7: Check Whether You're Using Keyword Correctly Or Not Through SERP Feature Snippet 
Suppose you have chosen your keywords. You must ensure that you use those keywords correctly in your website content. You can check whether you use the keyword appropriately from the SERP feature snippet. 
Moreover, SERP feature snippets are small information displayed on search engine result pages (SERP) that quickly answer a searcher's query.
Types of SERP Featured Snippets: 
The image snippet displays images related to the search query.
A paragraph snippet displays short content that answers the visitor's query.
The list type of snippet displays a list of items related to the search query.
The video snippet displays relevant videos related to the search query.
Where And How You Should Optimize Your Content For Keywords
When optimizing content for keywords, you should focus on a few key areas.
The first thing people will notice when searching for your content is the target keyword in the title page or post.
So, it would be best if you placed keywords in the—
The URL, 
Meta description, 
Header tags (H1, H2, H3), 
Within the first 100 words of the content, and
First & Last paragraph of the content.
However, be careful not to overdo it – Google can penalize sites for "keyword stuffing" or spamming a page with too many instances of a particular keyword.
The ideal number of times to repeat the keyword depends on a piece of content depends on the length of content. The strategy to place the keyword within the range is simple. 
Keywords should appear naturally.
The repetition of the keyword should be reasonable.
The density of the keyword should be between 1-2%. 
In addition to the content itself, make sure to optimize other parts of your page, such as the–
Meta description 
Alt tags for images
These elements provide additional context to search engines about what your content is all about.
The length of content is also vital in optimizing for keywords. In general, long-form content ranks better and improves visibility. The short and general content just won't work! At present, the content should be–
Informative,
Engaging,
Readable to attract and retain the audience's attention.
Lastly, keep in mind that optimizing for keywords is just 1 piece of the SEO puzzle regarding ranking well in search results. 
In addition to keyword optimization, other factors play a role in how both search engines and users perceive your content, like:
FAQs On Keyword Research
Which Are The 3 Main Factors That Go Into Choosing A Keyword In 2023?
In 2023, the three main factors that will play a critical role in choosing the right keywords for SEO are search intent, relevance, and user experience. 
How Many Keywords Should I Start With SEO?
The number of keywords you should start with for SEO depends on factors such as website size, competition, and niche. However, as a general rule of thumb, start with a small set, i.e., 2-3 primary, highly relevant, and targeted keywords that coincide with your business goals and audience search intent. 
Does Word Order Matter In SEO Keywords?
Yes, word matters to Google. However, capitalization or punctuation doesn't matter. But, there should not be any spelling issues.
What SEO Keywords Should I Choose First?
When choosing SEO keywords, start with highly specific long-tail keywords that target your ideal customer. Long-tail keywords have a higher chance of ranking well in search results.
Final Thoughts
As you embark on your journey as an SEO beginner, remember that keyword research is an ongoing process that requires constant analysis and optimization. 
So whether you're a seasoned SEO professional or just starting, by implementing the tips and strategies outlined in this guide, you can improve your website's search visibility and establish your online presence. 
As you begin your journey towards mastering keyword research for SEO, staying up-to-date with the latest trends and best practices is important to stay ahead of the competition. With a continuous effort, you can unlock the power of keyword research for SEO and take your website to new heights in 2023 and beyond.
About Outpace
If your business needs help targeting conversion-based keywords, Outpace SEO is here to help! The keywords we identify have high relevance and a high monthly search volume. Our unique keyword research lets us deliver warm leads to your website.
Outpacing your competitors in this competitive field can be daunting, but with our expert guidance, your business can easily navigate the complexities of keyword research. 
Outpace SEO is a top-rated Oklahoma-based SEO agency on–
Clutch
Trustpilot
Google My Business
Call us at (405) 544-0208. 
Or, Book a free SEO consultation.
Take a chance to emerge as winners in the highly competitive digital landscape!