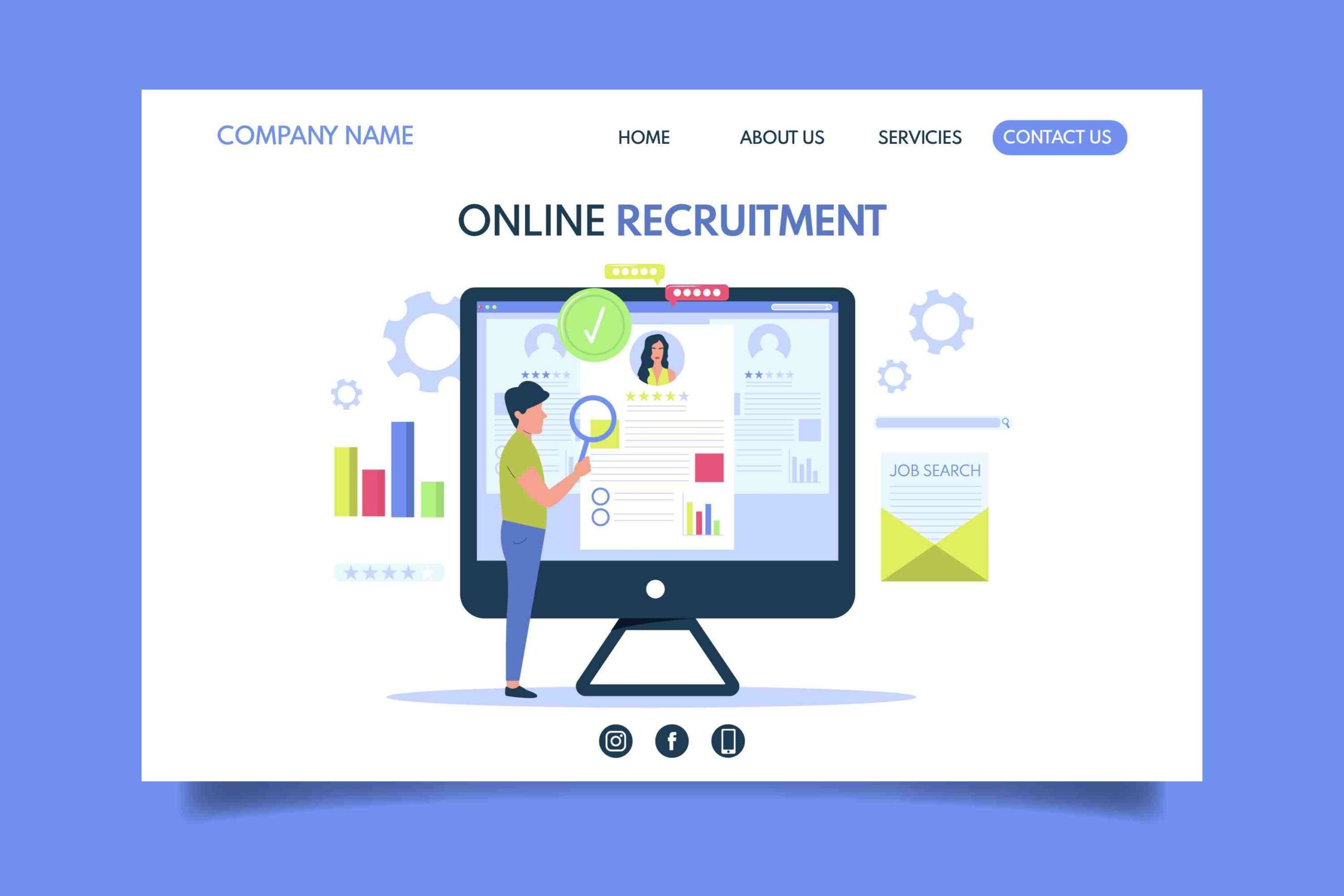 The world of Human Resources, Payroll, and Recruiting has moved online. As these services become increasingly digitized, businesses must find ways to make their digital presence felt. If you're in HR, Payroll, & Recruitment, you know that having a strong online presence is essential to your success. After all, what's the point of being a recruitment company if potential candidates can't find you when they're searching for open positions? Search Engine Optimization (SEO) is the key to driving traffic and increasing visibility on the web. So, how can HR, Payroll, and Recruitment companies use SEO to improve their online presence? Here's Outpace's comprehensive guide to applying SEO strategies for recruitment, hr, & payroll so that you'll know what to do to rank your website higher and reach more candidates!
Why is SEO Important for HR, Payroll & Recruitment Companies?
SEO is crucial in helping companies attract top talent because most job seekers use search engines to find open positions. SEO can help HR, Payroll, and Recruitment Companies build a strong online presence by optimizing their website for search engines like Google. 
Website optimization includes optimizing content such as titles and descriptions and other technical aspects such as page speed and mobile optimization. 
Optimizing in this order improves the website's opportunity to surpass other competitors' rankings in search engine results pages (SERPs). This rank allows potential customers to find you more easily when they type relevant terms into the search bar.
In addition to improving visibility and reaching potential customers on SERPs, SEO advantages HR, Payroll & Recruitment Companies in the following ways:
Through

keyword research and analysis

, they can identify which words

prospective customers

are typing into the search bar most often – then

tailor their content

accordingly so that it appears at the top of

SERP listings

.

SEO further helps in customer segmentation. By looking at organic traffic data from analytics tools like Google Analytics or Search Console, HR & Recruiting companies can gain insight into which demographics are finding them online and what kind of content resonates with these visitors.
Lastly, companies can use the information to refine targeting strategies further and create more effective campaigns tailored toward specific audiences.
Ultimately, SEO helps HR & Recruiting Companies build trust with potential customers by demonstrating expertise in the field through optimized content that answers customer queries quickly and accurately. It also helps them stay ahead of the competition by assisting them to rank higher than competitors on SERPs – thus allowing them to capture a larger share of organic search traffic than possible without SEO implementation strategies.
Basic SEO Strategies for HR, Payroll & Recruitment Companies
Employing the right search engine optimization (SEO) strategies can be a valuable asset for HR, payroll, and recruitment companies. SEO will help improve your online presence and visibility, allowing you to attract more clients and bring in more business.
Before starting, it is crucial to understand the key terms of SEO. 
Break it down into five parts: 
On-Page Optimization
Refers to the optimization activities on a website – creating meta tags, including keywords in headlines & URLs, optimizing images for search engines, etc. 
Off-Page Optimization
Refers to activities outside a website – such as link building & content distribution. 
Keyword research/optimization
Refers to researching and selecting keywords to focus on to drive more traffic to a website.
Link building/earning backlinks
Refers to creating links from other websites to your own.
Technical SEO
Refers to optimizing website structure and code to improve search engine rankings.
A. Keyword Research:
For HR, Payroll & Recruitment companies, the overarching goal should be to optimize their websites for keywords related to their services – so that when potential customers search for services in that area, your website shows up at the top of the list. Doing this requires a multi-faceted approach, including on-page and off-page activities. 
To start with on-page SEO, 
Optimize website pages with relevant keywords in titles & descriptions.
Tip: The best way to determine which keywords are most relevant to your business is to do keyword research. Use tools like Google's Keyword Planner or Moz's Keyword Explorer to see how often people search those terms. Once you have a list of high-volume keywords, you can start incorporating them into your website content.
It is also important to include these keywords strategically using appropriate keyword density rates – but overstuffing the content with too many keywords can hurt your ranking rather than help. 

In addition to using relevant keywords throughout the body of each blog post or article, make sure to also include them in places like

The headline/title,

The first sentence

Subheadings 

Anchor text (text that's hyperlinked to another page). 
Tip: Use Latent Semantic Indexing (LSI) keywords throughout your content. LSI keywords are related terms that search engines use better to understand the context of each piece of content. For example, if you're writing an article about "SEO tips," some LSI keywords might be "Google ranking," "search engine optimization," or "SERP." Using LSI keywords helps search engines better understand what each piece of content is about—which can, in turn, help improve your ranking. 
B. Link Building
Off-page SEO is just as important as optimizing any website and needs an effective link-building strategy. This strategy means utilizing backlinks from high-quality sites such as the following:
News outlets or other related websites;
Social bookmarking;
Submitting press releases
Directory submissions, etc., all helping to build exposure for your company's website & services!
The goal behind link building is to have as many quality sites linking back to your website as possible. This helps search engine algorithms recognize your website as an authority and improves your visibility online. Additionally, it helps improve SEO rankings over time by increasing the amount of organic traffic to your website.
C. Website Optimization for Mobile Devices
A website optimized for mobile devices is also key to successful SEO optimization for HR companies. 
Did you know that more than 60% of all web traffic now comes from mobile devices? 
There's a chance that you could miss out on a lot of potential customers. So it is necessary to optimize your website for mobile devices.
As many people now access websites via their smartphones or tablets instead of desktop computers, 
It is essential to look

good and function properly across all screen sizes and device types

if it hopes to attract visitors who may become customers.

Additionally, your website should have responsive design principles to work equally well regardless of screen size while still looking professional and offering a good user experience overall.
D. Social Media Marketing
Another great way to improve SEO rankings for HR, Payroll, & Recruitment companies is through social media marketing. For instance, Facebook, Twitter, and LinkedIn allow users to share information quickly with others—including potential customers—making them powerful tools for reaching new audiences who wouldn't otherwise find out about your services through traditional methods alone. 
Creating social media profiles on relevant channels with regular updates about news related to HR services can help the following:
Increase brand awareness

as engaging in social media marketing and running targeted advertising campaigns can help get your company's name out there, further increasing brand recognition & awareness.

Provide additional opportunities for gaining backlinks from other sources online.
Useful customer feedback about your company's offerings.
Tip: Make sure you use appropriate messaging & branding – so potential customers know what you offer!  
E. Local search optimization
Optimizing your site for local search is important if you want your company to be visible to those searching for HR, Payroll, & Recruitment related services in your area. This optimization means claiming and verifying your Google My Business listing and ensuring that your NAP (name, address, phone number) information is consistent across all your online listings (including directories like Yelp and Angie's List). 
Tip: You can effectively use Google My Business (GMB) for local branding efforts. GMB allows businesses like yours to showcase their products and services within SERPs based on location-based queries from potential customers searching in their area. 
For example, 
If someone were searching "payroll services near me," they might come across your GMB profile, leading them directly back to your website – thus increasing visibility and generating leads! 
By taking care of these details, you can help ensure that potential customers in your area will be able to find—and choose—your company when they're ready to do business.
Advanced integration of SEO Strategies For HR, Payroll & Recruitment Companies
A. Job posting
It is essential to HR, payroll, and recruitment companies' search engine optimization (SEO) plans. Advanced job posting strategies are necessary for these businesses to reach a broad audience of job seekers and pull in job search engines. 
A successful job posting strategy for HR, payroll and recruitment companies should include the following:
Listing job openings on job search websites,

Optimizing job postings so they contain the right keywords to target job seekers as well as job search engines,
Crafting unique descriptions for different job postings to increase SEO value,
Use SEO components such as meta tags and headers to attract job search engines' attention.
Advanced job posting efforts should be wide-reaching and effective to ensure quality job listings for all involved.
B. Employer Aggregate Rating
EAR provides a critical innovation for HR, Payroll & Recruitment Companies regarding advanced SEO strategies. Employer Aggregate Ratings focus on collecting data from multiple reliable sources and utilizing that data to create potential job postings. 
Through EAR, HR, Payroll & Recruitment companies can improve the following: 
The

visibility of the postings on the web

by targeting specific keyword phrases to reach the right audience.

Allow companies to tap into targeted job market segments, enabling them to strengthen their digital presence and establish rapport with potential employees.
Employer Aggregate Rating is a powerful tool for those seeking to get ahead in today's dynamic recruitment landscape.
C. Salary Range Pages
Salary ranges are a crucial part of business strategies. They are particularly important for HR, payroll, and recruitment companies that must stay competitive and attract the right applicants. 
The role of salary ranges is to give a good idea of what to expect regarding compensation when applying for jobs. 
For this, companies must:
Utilize tactics such as

keyword research, content optimization, and link-building campaigns

to bring more attention to Salary Ranges pages and promote the reach of job listings.

Additionally, online networks and web directories can also serve as helpful resources in exposing Salary Ranges to broader audiences. Companies looking to make their mark should invest in advanced SEO strategies for Salary Range pages to maximize their performance potential.
D. Training Programs
Job Training Programs are essential for HR, Payroll & Recruitment Companies to recruit and retain skilled employees. 
By investing in Job Training Programs, businesses can increase employee engagement, performance, and productivity.

To optimize Job Training Strategies and make them more accessible,

Companies should

create a search engine-friendly website

, 

Use effective social media marketing techniques

, 

Regularly update content and optimize on-page SEO features such as title tags and meta descriptions. 
Job Training Program websites should also link to third-party career advice and review sites to improve their rankings in SERPS. 
Lastly, developing Job Training Programs related to the company's niche can help it get higher rankings on search results pages. By knowing and utilizing the right SEO strategies for Job Training Program websites, businesses can better attract potential talent while increasing their ROI over time.
E. FAQs
Question & Answer SEO (Search Engine Optimization) strategies provide a great way for HR, payroll, and recruitment companies to reach potential customers. Through FAQs, businesses can advertise their services and help educate consumers in the industry. By answering frequently asked questions related to HR, payroll, and recruitment within online forums or on their website or blog, these businesses can make their presence known to those searching for answers. 
This type of content marketing allows businesses to

become an authority in their niche

by providing value-driven content that ultimately increases the visibility of their brand and products. 
FAQs present a great opportunity for HR, payroll, and recruitment companies to develop relationships with potential clients while increasing organic search engine traffic.
Overall, HR, Payroll & Recruitment companies must invest in proper SEO if they want to remain competitive & visible online. Implementing a comprehensive strategy combining both on-off page tactics is necessary if you wish for long-term success!
About OutpaceSEO
Generating results across the US for over ten years
Ranked #1 among 142 SEO companies in Oklahoma

Current clients range from start-ups to Fortune 500 companies

Providing business growth insights to executives across Forbes & Entrepreneur
At Outpace, we push to optimize your website for both sides of the coin, human viewers and algorithms. Quality SEO can be one of the best investments in your business. We are here to help you with clear and efficient site design with better navigation, social proof through meaningful reviews and backlinks, & laser-focused content with keywords that your audience is already searching to help you rank higher and engage your customers more powerfully.